The Pouch House is excited to help brand owners order flexible packaging in the most convenient way possible. With our easy-to-use online ordering platform, along with a variety of size and material options, the Pouch House can deliver custom printed pouches for virtually any product.
Let's hop in and go over some of the options!
Two Custom Printed Pouch Styles
The two styles of pouches include Stand Up and Lay Flat. You might see them abbreviated as SUP and LF. "Stand Up" pouches have a bottom platform (known as a gusset) that will support the pouch and its contents in a vertical/standing manner. "Lay Flat" pouches are side sealed and cannot stand up on their own.
Three Film Options
Our three film options are white, clear, and metalized. These films cover a wide variety of products and aesthetic options.
White and clear will have a high barrier, whereas metalized will have an ultra-high barrier. Clear will be a great option for brands that want to show off their product in a window. Metalized is useful for the cannabis and CBD industry, due to its ability to block odor. *Ask us how we can create a "spot foil" effect on your pouch using our metalized film.
Two Finishes
The two finish options will be gloss and matte. A gloss finish will help enhance your artwork, giving it a shiny look. A matte finish is more dull, absorbing light rather than reflecting it. Want a tactile feeling to your pouch? Ask about our soft-touch film options.
Additional Features
The Pouch House prints digitally, which gives your brand the ability to access some pretty cool features, such as mosaic printing. With this feature, you would submit a vector file of an image/pattern. We'd then integrate it with our pre-press technology, allowing each printed pouch to be completely unique! You can also add serialized numbering, microtext, QR codes and other variable printing options.
Ask us today about adding unique features to your pouch. P.S.: Your customers will love it and your brand will have a chance to tell an awesome story!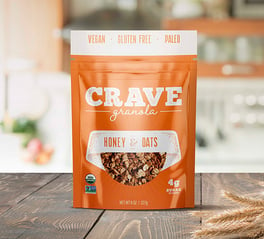 Are you ready to stand out on the shelf and harness our digital printing technology? Get a quote and order online today. You can also request pouch samples below.

Interested in some custom printed pouch samples ? Order a FREE sample pack today!
To get a sample pack, email: samples@thepouchhouse.com